2018 Roberta Morrell Master Classes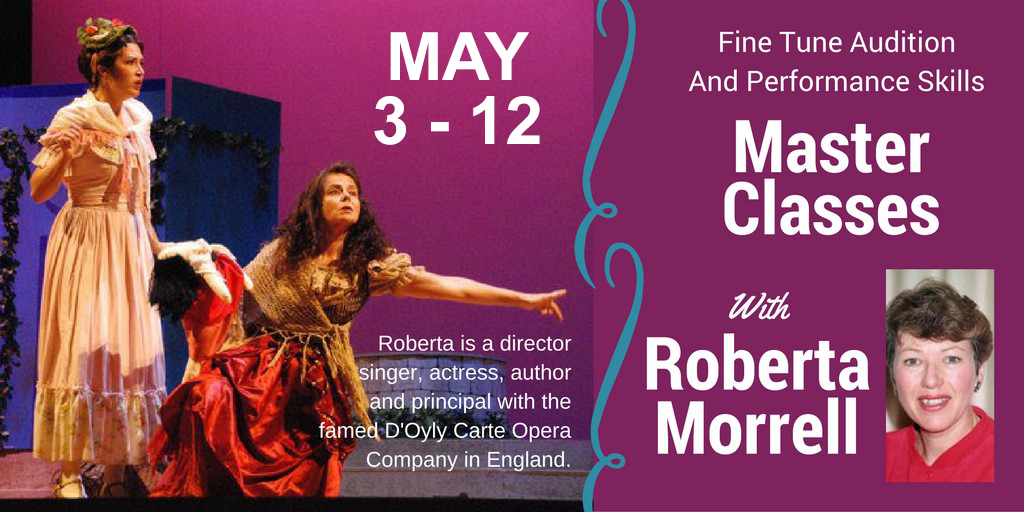 Roberta Morrell, born West Bromwich, West Midlands 1950. Contralto Roberta Morrell studied singing at the Birmingham School of Music and the Royal College of Music, London, before joining the D'Oyly Carte Opera Company chorus in April 1972. She appeared as Inez in The Gondoliers, Kate and Isabel in The Pirates of Penzance, Hebe in H.M.S. Pinafore, and Peep-Bo in The Mikado. While with the Company she appeared as Peep-Bo in the 1981 Oscar winning film Chariots of Fire. She may be heard on the Company's "Last Night" album in that part as well. Read more here...

The Roberta Morrell Performance Master Class includes a 40-minute performance slot, digital video recording of the slot, and observation of the three other individual performance slots in the same session. Each 3-hour session will be made up of four, 40-minute individual performance slots. Excellent for fine-tuning your audition or performance skills. Solos, duets, trios and quartets from any genre - Gilbert & Sullivan, opera, musical theater, etc. - are welcome. Also welcome are monologues and 5-minute scenes by both singers and non-singers alike.

For more information, dates, and the registration form, please click here.

For payment options, visit our Tickets & Support page.
---

From Our January 2016 Production of The Mikado: