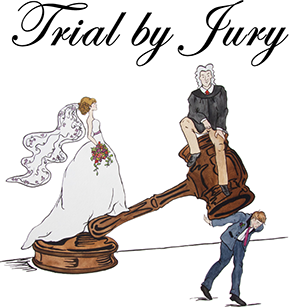 Calling all singers, actors, and dancers!
GSSCC is looking for performers of all types to join the ensemble as jurymen, public, and bridesmaids for our upcoming production of Trial by Jury!
Our first rehearsal for the ensemble will be at 6:00pm on Sunday, Nov 19 and will be held at Holy Trinity (address below). If interested in joining the ensemble, please email williams.danielk@gmail.com so we can get an approximate head count. New members will be asked to audition at the end of the first rehearsal and may bring any song they'd like to sing, either accompanied or acapella.
In general, rehearsals for Trial will be:
Sundays, 7:00-9:30 pm
Church of the Holy Trinity (corner of High & Union St, West Chester, PA)
On occasion, we may call you at 6 or 6:30 to go over music for the first half of the program. Also, January and tech week rehearsals may run until 10pm.
A full rehearsal schedule will be available on the website shortly.
Trial will be stage directed by Susan Guyer and music directed by Florrie Marks. The production will feature a full orchestra and be presented at the Uptown! Knauer Performing Arts Center in West Chester for 3 performances on Feb 9 and 10. The program will also feature a selection of GSSCC favorites for our 30th Anniversary. The cast of Trial will also serve as the ensemble for a few selections in the 30th Anniversary Concert (Act 1).